While our deep prospects have been dominating the news, the team is moving ahead methodically drilling TAG's shallow oil and gas prospects at Cheal. They took a minute to send some shots from the field of a recent perforation at Cheal-E2, as well as modeling some of the new equipment that's in place to move the oil and gas.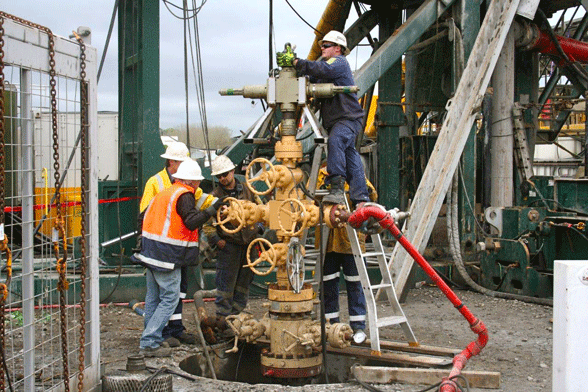 Taking the cap off of E-2, and getting ready to perforate.

Randy Toone on the ladder about to
drop the bar to perforate.

Smile for the camera...



And there she goes! Jack starts the
clock: it should take about 3.5
minutes to land on the firing pin at
the Urenui zone.

Hands on the well head to feel the
guns fire: 2.5 minutes... 3 minutes...
Boom! Successful perforation.


Shane already has concrete pads
poured for the permanent production
facility at the Cheal E-Site.


And he models the line heater,
already built and installed, that will heat power fluid.


Instrumentation is already in place,
waiting to be connected.

Shane explains how the power fluid
pumps will sit right on the pads.

Out the back of the facility, this is
where the pipe rack will carry gas
down to the flare tank in the distance.

Steve Webling working on the flare
stack.