Here are a few excerpts from TAG Oil's 2013 year-end conference call, conducted by Chief Executive Officer Garth Johnson, and Chief Operating Officer Drew Cadenhead on 28 June. You can listen to the full podcast here, see details and financials in the year-end press release here, and access the Company's MD&A / Annual Report here. But these excerpts have some pretty interesting pieces of information shared by Garth and Drew.
The transcript is from Thompson Reuters, and the subheads are ours for your scanning convenience. Needless to say, we're chomping at the bit to get our next phase of exploration underway!
Drew on TAG's reserve estimates….
"With a lean team of only about a dozen professionals handling all the operations down here in New Zealand, we knew that focusing on a major infrastructure build-out project as we did would result in a minor slowdown of drilling operations. Now, we still managed to drill six new wells in Taranaki this year, all successful, and our first ever unconventional tight oil test on the East Coast Basin, and I'll be discussing these projects in more detail later in this conference call.
As far as how our reserve situation looks, we are pleased to announce a moderate growth in 2P reserves even though we concentrated most of the year on successfully completing this major infrastructure project. We produced a total of 641,000 BOEs during the year on an average or an average of about 1,750 as Garth said. Taking that production into account, we managed about a 4% increase in 2P reserves to 6.1 million BOEs, and we maintained our NPV10 at a little over $200 million. It's noteworthy that 88% of our 2P reserves are oil.
We feel timing didn't help us with the actual optics of this year's reserve report. With a fiscal year end of March 31 and then project start-up date of March 27, we didn't have time to bring a lot of our behind pipe production on-stream to provide sufficient data to Sproule for this year's report. As a result, Sproule is mandated by the rules of National Instrument 51-101 to volumetrically estimate proven and probable reserves in newly drilled areas.
Now, the original discovery wells in Cheal have now been producing since August 2007. So, we have nearly six years of production data on some of our wells now to help us determine how our new wells will behave and produce over time. What we know for sure is all our wells produce far greater ultimate reserves than what was historically predicted using early volumetric data.
A great example of this is Cheal-B3, which after the first year of production was volumetrically assigned ultimate recoverable reserves of 70,000 barrels. Now, after only five years — don't forget most of these wells will have a 15-year to 20-year reserve life — that particular well has produced about 400,000 barrels. Once we get a few years of production history under our belts for each pool, Sproule can revert to using a decline analysis to determine ultimate recoverable reserves. That analysis more accurately reflects the nature of our drainage areas for these Miocene turbidite reservoirs.
The seismic sees the sweet spot that's where we drill, but the ultimate drainage occurs over a much larger area than just that sweet spot. That's the situation we find ourselves in this year with a number of our new wells: Sproule doesn't have enough production history to use a decline analysis yet, so instead they map the sweet spot volumetrically and assign what we think are very conservative reserve numbers. This is particularly evident at Sidewinder, where our new wells, as Garth mentioned, Sidewinder-A5 and Sidewinder-A6 were volumetrically assigned a total of approximately 0.5 Bcf of ultimate recoverable reserves between the two wells in this year's report.
In the first 90 days of production since fiscal year-end, those two wells have now surpassed that reserve allotment, and they show no signs of slowing down. There will obviously be reserve upgrades next year, but the result of this overly conservative reserve assessment in all our new wells definitely separates what we estimate internally for TAG reserves from what Sproule has assigned us this year.
At Sidewinder, this discrepancy has resulted in an impairment on the property this year given
we have the long consenting delay in getting these new wells drilled, as Garth mentioned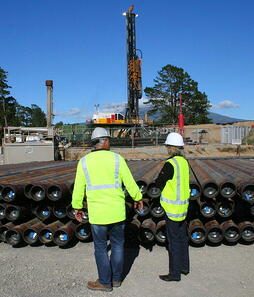 earlier, and then only a few weeks' production data before our fiscal year-end. We're actually considering commissioning a mid-year reserve report update this year, which given the production data we have achieved since the cut-off for this year's report, we are certain will materially affect the reserves we're disclosing at this time.
One thing I would like to mention with respect to our reserves is that 80% increase in 2P original oil in place Sproule has assigned to our core producing formation in Taranaki, the Mt. Messenger formation. This increase in recognized 2P original oil in place can be attributed to Sproule's recognition of the extent to which bearing sands must be contributing to production from individual wells. It stems back to the comment I just made on volumetric reserve determination versus decline analysis earlier.
Sproule is now starting to concede that much larger areas of gross sands have to be contributing to the production from our wells in order to balance existing well performance with volumes in place. The alternative is to assign unlikely recovery factors greater than 60% or 70% to the existing areas to account for what we've already produced. Now what this all means is a very positive outlook for continued additions of proven and probable reserves in the future of our core properties.
Now, I know original oil in place doesn't have any bearing on our NPV now, what it does mean is an independent third-party recognizes the extent of the oil accumulations within our properties and it is only up to TAG to keep drilling and shift those original oil in place numbers to proven reserves.
To date, we have drilled up less than 25% of the Cheal Mining License and 10% of Sidewinder. We've just increased that acreage further with a successful 2012 blocks offer award more than doubling again our acreage right adjacent to these proven areas. So, we're looking forward to many years of continued drilling on this core shallow cash flow machine that we have established now in Taranaki."
Garth on projects in this year's pipeline…
"TAG shareholders will be participating in a program that's never been seen in New Zealand before, never been done before, with the potential for some very significant results.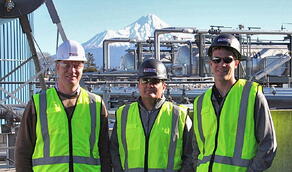 We've contracted four rigs to be working simultaneously to drill a minimum of nine shallow Taranaki wells, two deep Kapuni wells in Taranaki, and at least one more East Coast unconventional well in the next six to nine months with a cost to TAG of approximately $39 million. It is fully funded using cash flow on our strong balance sheet.
I think this ability to commit to such a program is what separates TAG from any other junior explorers, and we are doing so with confidence that we'll — that what we drill stands up technically and can be done safely, methodically to obtain the best results possible.
We have established low risk baseline production and cash flow at Cheal and Sidewinder, got many more years to drill there. We have an understanding now regarding the relatively low declines associated with the shallow production. We've maintained a respectable capital structure with less than 60 million shares outstanding. We have got a strong balance sheet, no debt, 100% of our infrastructure is owned, and the infrastructure is built to meet our needs for the future.
A lot of other companies are scrambling and needing to dilute to carry out their programs, to complete acquisitions, and doing so with probably three to four times more people on the payroll. So, we are pretty proud of what we've resulted and the foundation that we built that would carry us into the future.
Fiscal year 2014 provides our shareholders with a number of new drilling catalysts and success in one or all of the plays that we are going to be drilling inclusive of the deep Kapuni plays, the East Coast unconventional, and possibly even Canterbury. It will get TAG the opportunity to become a much larger producer and a reserve-based company.
We look at the nine shallow Taranaki wells to be drilled by the end of calendar 2013 as an opportunity to increase our reserves, maintain and possibly grow our baseline production and cash flow, and continue this for many, many years at relatively low risk. It also allows us to add deep drilling and more focus to our East Coast operations, and we have brought in a JV partner in East West Petroleum to our shallow Taranaki program that allows to focus on the deeper and the East Coast plays, and we also have a carry on those initial Taranaki plays up to $10 million, which mitigates a little bit of risk on that shallow play."
Drew on the Heatseeker deep prospect…
"Now after Cardiff comes the play that probably excites me the most, Heatseeker is a classic explorer's prospect. Picture this: a massive anticline feature, almost a perfect upside down mixing bowl sitting on a table. That's what the 1.5 Tcf Kapuni field looks like on seismic. That pool was discovered in the '50s, has only 18 wells into it, but has drained over a Tcf of gas, 65 million barrels of condensate to-date, and it keeps on spewing hydrocarbons today.
Now, picture right beside that upside down bowl on the table, what looks like an identical upside down bowl sitting right beside it. The only problem is someone has erected a wall, so you can only see three quarters of that bowl. That's Heatseeker, three-way dip closure is clearly seen on existing seismic, but the fourth and critical direction of dip closure is situated right under Egmont National Park where Mount Taranaki, our picturesque volcano is situated. No seismic has ever or will ever be shot in this park.
The nature of the structural belt in this area suggests that there will be that critical fourth direction of closure, but there is only one way to find out and that's to drill a well. We've got a deep rig contracted. We have a service access agreement signed. We'll move the rig on right after Cardiff and find out. As Garth said earlier, any one of these deep plays has the potential to really transform TAG if we're successful."
Drew on the East Coast Basin…
"We can't give up too much detail at this stage as there is a critical land sale occurring in New Zealand later this year, bid deadline is September 26, and there are few blocks up for bid offsetting us within the East Coast Basin. But I can tell you, we are extremely proud of the operational job we did in the drilling of our first deep test on the East Coast.
Ngapaeruru-1 was drilled without a hitch in about three weeks. We anticipated and encountered extreme overpressures. We encountered swelling mud stones and a few other nasty drilling obstacles that have been a nemesis of past drillers in this tricky basin. But again, our combination of Kiwi experience and North American technology allowed us to drill our well easily, collect all the critical data we intended to, and not have a single environmental health or safety issue.
The small minority of anti-fossil fuel opposition we had before we spudded the well barely had time to organize a protest before we were gone. The vast majority of our neighbors there, all of the regulatory bodies like local and regional councils couldn't believe what a professional operation it turned out to be. Drilling is new to these people. I think they were expecting wooden derricks and a spindle top blowout or something.
The results of this first well were encouraging, to say the least. In order to keep that over pressuring in check, we took no chances and used extremely heavy mud weights while drilling. Despite that, we went from over 1,000 meters of zero oil and gas shows through the over burden to instantaneous strong shows once we entered our target zone. Those shows continued unabated for 155 meters before they instantly disappeared to absolutely no shows again until TD, and that tells us a couple of things.
Number one, the seal looks to be working as no shows were seen above the zone. The zone itself definitely has hydrocarbons in it, but of course that was expected. We knew these source rocks were working from the quality and quantity of oil and gas seeps in this basin, but probably most important is that there seems to be permeability associated with the zone. That's the only way we would see the shows we did even given the high mud weights we were using.
We collected a lot of core, we shot Schlumberger's logs I've never even heard of before focusing on unconventional parameters and we collected live samples of liberated gas from the drilling mud itself. All of this data is now in various labs, mainly in New Zealand and Australia, where we're working with specialists from around the globe to interpret and plan the next step to be taken with the play, and in particular this wellbore.
What I can tell you is, we would definitely be completing this well, probably not for at least three to four months until we get all the data back from the labs and it's all interpreted, but Ngapaeruru-1 was not a red light, it was not an orange light, it is definitely a green light from what we have seen so far."
Conversation with analyst David Phung about production numbers…
David Phung: "So, current production is about 2,660s and you still have two wells behind pipe. What do you expect the production to be after you bring those wells on? …. I remember last time you were expecting yield the second half of this year, you'll be averaging around that 3,000, do you need to bring that down a little bit considering that you are going to be at 3,000 already once you bring these wells on?"
Drew Cadenhead: "Yes, we've got a couple of wells behind pipe still to tie in. We also have two of our key wells just undergoing regular maintenance, wax-cutting right now. So, given that we've tested all these wells, we do expect production once all wells are on shortly here to be at about 3,000 BOEs a day. … Most of the wells we brought on now are — have moved into that stabilized production flow, that really slowed decline section of our curve now, and we're still optimizing wells as we move forward here. Part of our biggest push in the last month or two here is to go well by well and look at our pumping procedures. And each well we do, we're making a little bit of improvement on each one, a little bit of gains. So at this time, I think we'll leave guidance as we said in that 2,500 to 3,000 barrel range for the rest of the year, and if that changes, we'll certainly let you know."
Discussion of Cheal C3 becoming an oil well after its initial gas flow…
David Phung: "…You're saying that the Cheal-C3 well, you are seeing an increased oil rate over time and you're needing to install oil pumping equipment there. Is that the only well where you're experiencing that and what are the before and after oil [cap]?"
Drew Cadenhead: "You're breaking up a little bit there, David, but I think I've got most of that question. Cheal-C3's starting to look like it's more like an oil well, and do we have any other wells like that? We have one other well like that; it's Cheal-A8, which originally on initial 15-day test showed itself as a pure gas well. We built facilities to assume that.
Same thing with C3, we have built facilities to assume that, but on further production from those wells, we noted that they very quickly turned to predominantly oil producers.
So, obviously, a streak of gas sand within these multilayer turbidite sands, but the rest of them being oil: gas is obviously going to flow preferentially to oil first. So once that initial streak of the gas sand had spewed out, the oil started coming afterwards. So we're shifting two wells that we previously thought were going to be gas wells, Cheal-A8 and Cheal-C3, into Cheal oil producers with our regular pumping configurations."
David Phung: "Okay. So it's not, the gas is from a different interval then, it's not really a mini gas cap of any sort, right?"
Drew Cadenhead: "No. These reservoirs are not single volumes, turbidite reservoirs are a series of — in a 20-meter section, there might be 30 different sands separated with shales that are 0.5 meter thick each. And oddly in these sands, once in awhile, we just get one of those sands that has oil or gas or even water, once in awhile in it, and the rest of them all oil, and they don't need — particularly need — to be at the top, they could be in the middle, they could be at the bottom.
It's a very strange physical phenomena, but well proven in these Mt. Messenger and Urenui reservoirs. So, it is not a gas cap situation where we've blown off the energy from the pool. It's single lens of sand within the overall net package of sands that happen to be gas bearing, but the rest are oil bearing, it appears now."
David Phung: "Okay. And maybe just a little bit more detail on Cardiff there. How many intervals are you planning to fracture stimulate, and can you talk about in a little bit more detail on how you plan on stimulating those zones?
Drew Cadenhead: "Right. There are three main zones in the Kapuni Sands that we're going to be looking at Cardiff. The top zone is called the McKee Sands, then the K1A Sand, and then the K3 Sand, the deepest one. The deepest is the thickest. Second one is the middle one and the top one is the thinnest. All three sands have been produced and tested, gas and condensate in the past in sub-economic rates. … We'll have a clean set of logs across all three of those zones, and from those logs and from the information we gather while we are drilling, we'll plan our fracking procedure. We've got our fracking consent already in to the local regional councils here: we do plan on fracking all three zones.
We'll start at the bottom zone, the thickest zone, the K3A and take that one definitively itself first, so we will frac that, we will test it, we will give it a chance to make a definitive decision on it before if it's not economic for us, and then we will move up to the second one and the same thing, test that definitively and then move up to the final McKee sand and test that one.
So at the end of the day, we may well have a continuing completion operation going on there for the next 10 or 15 years; as one zone depletes off we'll go up to the next one, but initially we want to have a fair chance at all three, we don't want a chance any interflow between the three, we want to test each one individually and get definitive answers for each one."