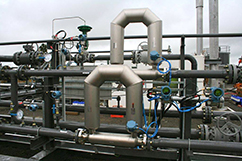 TAG Oil's drilling success has surpassed its facility capabilities, so we're investing in infrastructure expansion to help us bring all production on stream. The expansion will also help to commercialize future discoveries without delay.
After drilling 14 successful oil and gas wells in a row, combined with our ongoing Taranaki drilling program, it became necessary to expand Cheal's infrastructure, including:
Triple oil-lifting capacity;
Triple gas compression capacity;
Build a gas plant at Cheal capable of stripping LPG and liquid hydrocarbons from Cheal gas;
Build the Cheal-C site oil battery to establish permanent production from recent Cheal-C discoveries, as well as allow for future development;
Add new pipelines to tie the Cheal-C site to the Cheal-A site and add a new 6,000 meter pipeline from Cheal to New Zealand's open access gas transmission line to maximize marketability of TAG's gas production;
Establish TAG as a third-party gas processor in Taranaki.