On a recent trip to Taranaki New Zealand, TAG Oil CEO Garth Johnson and Controller Dan Brown snapped some photos for the blog. They were down under for meetings with the technical team and local community leaders, and of course, to experience the new developments at TAG's Cheal and Sidewinder oil and gas discovery areas first-hand.

The Ensign Rig getting set up to drill Cheal -B7, TAG's follow-up to the highly successful B5 well. Cheal-B5 had the most extensive pay interval ever recorded by a Cheal well, and the highest flow rate recorded from from a Mt. Messenger well.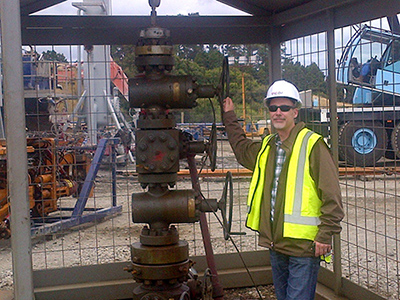 TAG Controller Dan Brown stands proudly in front of the Cheal-B5 wellhead. As announced December 5th, TAG perforated and flow tested 20 meters of continuous oil-and-gas pay in the Cheal-B5 well, in the 35 meters of net pay intercepted within the primary Mt. Messenger Formation. Today it's still going strong.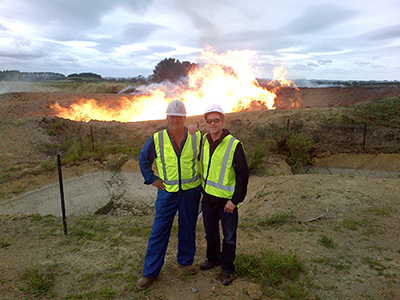 Lead engineer Jack Doyle and CEO Garth Johnson, in front of the Cheal-C2 discovery well. This important step-out well in TAG's C-block discovery area flow tested ~14 million cubic feet per day (~2,333 BOE/day) on a 48/64" choke, with associated condensate production increasing during testing. Located about 3.5 km's NW of TAG's Cheal-B5 well, it significantly extends the known oil-and-gas saturation area within TAG's Cheal permit. The success of Cheal-C2 also adds another high-impact target to TAG's prospect portfolio in the Mt. Messenger and Urenui formations.

A shot of the loading arm at the Sidewinder Facility: used to fill the oil tank in the background with oil produced from TAG's successful Sidewinder exploration wells drilled in late 2011.