Okay so Time Magazine's article isn't about TAG Oil, but it could be. Because they're talking about the vast amounts of oil and gas that's being found in tight oil plays.
They're finding major amounts of oil and so much natural gas in the United States, that it could potentially eliminate America's reliance to foreign oil (for more info see http://www.chk.com/Independence/energy-independence.html).
Unconventional tight oil is exactly what TAG is targeting a half a world away, in the East Coast Basin in New Zealand. There are actually two formations in the East Coast Basin and they are the "source rocks" generating the high-quality oil (50 degree API) found in drilling and in the many oil seeps throughout the Basin.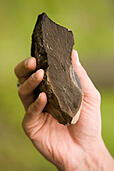 Oil-permeated Waipawa
source rock
The East Coast Basin's Waipawa and Whangai formations are rich in total organic carbon content and have oil and gas maturity levels that compare to North America's highly successful Bakken.
The East Coast Basin tight oil formations have measured primary porosities that are in the 22-30% range, favorably above what's typically found in the Bakken.
Click here for an independent assessment of the major undiscovered resource potential in TAG's East Coast Basin unconventional venture.