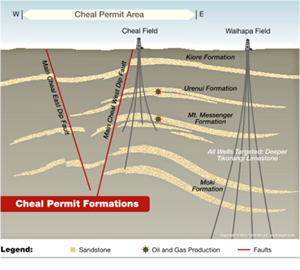 We put this cross section together illustrating the formations we're intersecting, including Urenui, Mt. Messenger and Moki.
PEP 38156 (PMP 38156) came through. We drilled Cheal-B4ST to a total depth of 1810 meters, encountering 17 meters of net oil-bearing sandstones within the Urenui and Mt. Messenger Formations. Electric logs show great porosity and permeability, indicating four separate zones are likely to be oil-charged. Two of the four zones intersected are oil-bearing zones never before encountered in wells within this permit…demonstrating that the whole 7500-acre permit area is oil-prone, with multiple shallow horizons prospective for discovery.
Now it's on to flow testing and the rest of the planned wells in our Taranaki Basin acreage.