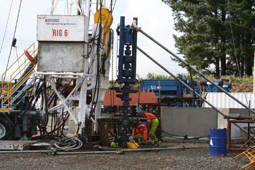 The guys hard at work.
We're releasing the drilling rig and mobilizing a service rig over to Cheal-BH-1 to complete our five-stage stimulation. Uphole mudlogs have recorded better than expected oil and gas shows in the secondary Urenui Formation, and in the Mt. Messenger horizontal section of the well, a total of 430m of continuous reservoir penetration is interpreted with high oil and gas readings.
All stage packers have been successfully deployed, and we're going to have the first horizontal multi-stage fractured well in New Zealand in a matter of days.