In what was described as a composed performance in a hectic game last Saturday, team TenderLink Taranaki (commonly referred to as the Amber and Blacks) prevailed to become the ITM Cup Premiership champions!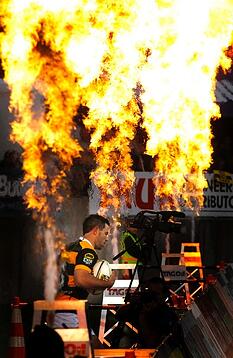 A Taranaki player seen through the
TAG Oil stadium flares.
"We're absolutely over the moon," said flanker Mitchell Crosswell. "To do it in front of a home crowd was just fantastic. It's amazing."
The ITM Cup is the highest level of professional, domestic New Zealand rugby union competition, and Taranaki is the first province outside "the big five" to win the title.
The NZ Herald said it best:
"In front of 21,000 fervent fans on a wonderful night for provincial rugby, Taranaki applied the fitting finale to their fairytale campaign. Taranaki's 36-32 victory over Tasman at Yarrow Stadium on Saturday was an appropriate way to cap the greatest season in the history of Taranaki rugby."
TAG Oil is a proud sponsor of this great team, and we congratulate the players on a game well played, and the fans for a season that will go down in history!
For more detailed play-by-play, go here: http://www.itmcup.co.nz/News/26243/taranaki-win-2014-itm-cup-premiership