We've been not so patiently awaiting the results of the independently conducted Reservoir Characterization Study (RCS) on TAG Oil's East Coast Basin, unconventional Ngapaeruru-1 well, and it has finally arrived.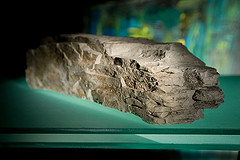 This RCS study provides the first true unconventional data set ever acquired in the East Coast Basin, and the quality of this state-of-the-art data set provides the first specialized interpretation necessary to unlock the major oil and gas potential of TAG's East Coast Basin unconventional play.

As our team had hoped, the study confirms that oil is being generated in the Whangai source rocks, as well as a number of critical positives showing the Whangai to be a viable unconventional oil target. Not that it's a surprise to us, but independent confirmation is always good. (This is a studio shot of our oil-rich Whangai shale, above.)

A few highlights include:

- Analysis places the Whangai source rocks in the oil/condensate window, correlating well with the 50-degree API oil seeps in the basin

- The hydrocarbon-filled porosity exceeds the minimum standard thresholds for unconventional reservoirs

- Permeabilities exceed standard unconventional reservoir thresholds

- The Whangai Formation has very low clay content, indicating fracture stimulation can be highly effective

In order to prove the viability of moveable hydrocarbons from within these source rocks and the economic viability of this unconventional play, TAG can now move on scheduling perforation and production testing of Ngapaeruru-1.

For more detailed information, see our recent Q3 press release. And stay tuned for what happens next!