TAG committed to its Cheal E facility after drilling the E1 well, and less than two months later, the new oil-handling facility is in place: designed, constructed and commissioned in record time…and we're flowing oil through this new facility today. All successful E site wells can now be tied straight into this permanent plant.
In the past, New Zealand companies would use temporary interruptible test facilities for two to three years before committing to a permanent facility. But we now have the track record and data to understand the technical and economical aspects of these plays to know when it's economical to commit to a permanent facility. In fact, based on the E1 well alone, we're already adding additional oil storage facilities, and restricting the well with a 1/4" choke until they're in.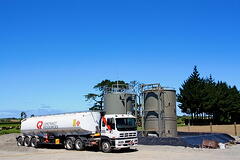 Lagging Oil Lifters: Working well now, but we're always looking for improvements
Over at the original Cheal A facility we had some reliability issues with our new power fluid pump system that resulted in reduced production rates last quarter.
We've got those taken care of and are back on track, but because of the importance of the oil lift pumps, we're testing some alternate production methods to reduce reliance on power fluid lift. When a pump going down can lead to a loss of five to seven wells' worth of production, it's good to look at other long-term backup solutions. Results to date are encouraging, but we continue to test. And we've now got a team in place that's always looking to optimize production.